Descrizione:
La certificazione di Esperto in Nutrizione ed  Integrazione Alimentare Applicate allo Sport  (Sport Nutrition & Supplementation Expert – SNSE™) fornisce le conoscenze di base per la comprensione della nutrizione sportiva e intende informare in maniera seria e approfondita a riguardo dell'uso degli integratori alimentari in ambito sportivo, facendo continuo riferimento alle ultime ricerche in questo campo.
L'esperto internazionale Filipe Teixeira, Master in Scienza Applicata e due lauree, in Biochimica e Scienza della Nutrizione, consulente di atleti e squadre professionistiche, ti guiderà attraverso la scienza e la pratica della nutrizione sportiva, permettendoti di ottenere una conoscenza più approfondita dell'argomento.
Programma:
Concetti Generali sul Metabolismo
Macronutrienti: Carboidrati, Proteine e Grassi
Micronutrienti
Fondamenti del Metabolismo
Ipertrofia: Meccanismi e Fisiologia
L'Importanza dello Stato Ormonale dell'Atleta per la Composizione Corporea e la Prestazione
Dieta e Integratori per la Fase di Ipertrofia: Teoria, Pratica e Casi Studio.
Dieta e Integratori per Migliorare la Composizione Corporea: Teoria, Pratica e Casi Studio.
Integratori e Normative
Capire gli Integratori di Proteine e Aminoacidi
Capire gli Integratori di Carboidrati
Descrizione degli integratori e dei principi attivi in commercio
I prodotti Erboristici e Omeopatici
La Nutrizione Peri-Allenamento
L'Integrazione secondo l'Obiettivo (Ipertrofia, Prestazione, Recupero)
I 4 aspetti dell'Integrazione Sportiva
La periodizzazione della dieta
Difendersi dalle Strategie di Marketing delle Aziende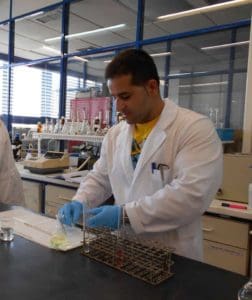 Durata: 18 ore.
Primo giorno, "Nutrizione Sportiva: Scienza e Pratica – I";
Secondo giorno, "Nutrizione Sportiva: Scienza e Pratica – II";
Terzo giorno, "Integrazione Alimentare per lo Sport".
Orari: 10:00 – 13:00, 14:30 – 18:00
Requisiti per la partecipazione: Nessuno.
Note: Non sono ammesse registrazioni audio/video.
Filipe Teixeira,
PhD researcher at the laboratory of Biochemistry and Exercise Physiology of the Faculty of Human Kinetics of the University of Lisbon – "Leucine metabolites in performance and body composition"
Registered Nutritionist
M. Sc. in Applied Science
B. Sc. (Hons) in Nutritional Sciences
B. Sc. in Biochemistry
Proviant Nutrition Research R&D Manager
Conducts classified research for the Portuguese Army
Carlo Buzzichelli,
B. Sc. (Hons) in Exercise Science
ISCI – Certified Master in Sport Training
Precision Nutrition Practitioner Level 1
ISSA – Specialist in Fitness Nutrition
University of California San Francisco – Nutrition for Health Promotion and Disease Prevention – Certification
University of Pittsburgh – Nutrition and Physical Activity for Health – Certification with Distinction
Giovanni Spinelli
Giovanni Spinelli, ISCI-SSC, PN1 Coach, istruttore CSEN-CONI,  atleta natural vincitore dell'IFBB Ludus Maximus 2010 e coach di body builders natural plurimedagliati.
I suoi atleti hanno gareggiato in diverse federazioni tra cui IFBB, NBFI, FIBBN, NBBUI, AINBB e hanno ottenuto risultati importanti, tra cui:
– 1° posto: 17 volte
– 2° posto: 9 volte
– 3° posto: 3 volte

Ilaria Berry
Ilaria Berry, la cui formazione si dirama tra sport, psicologia e nutrizione, è laureata in psicologia clinica,
– Certificata crossfit trainer L2
– Certificata L2 di Precision Nutrition.